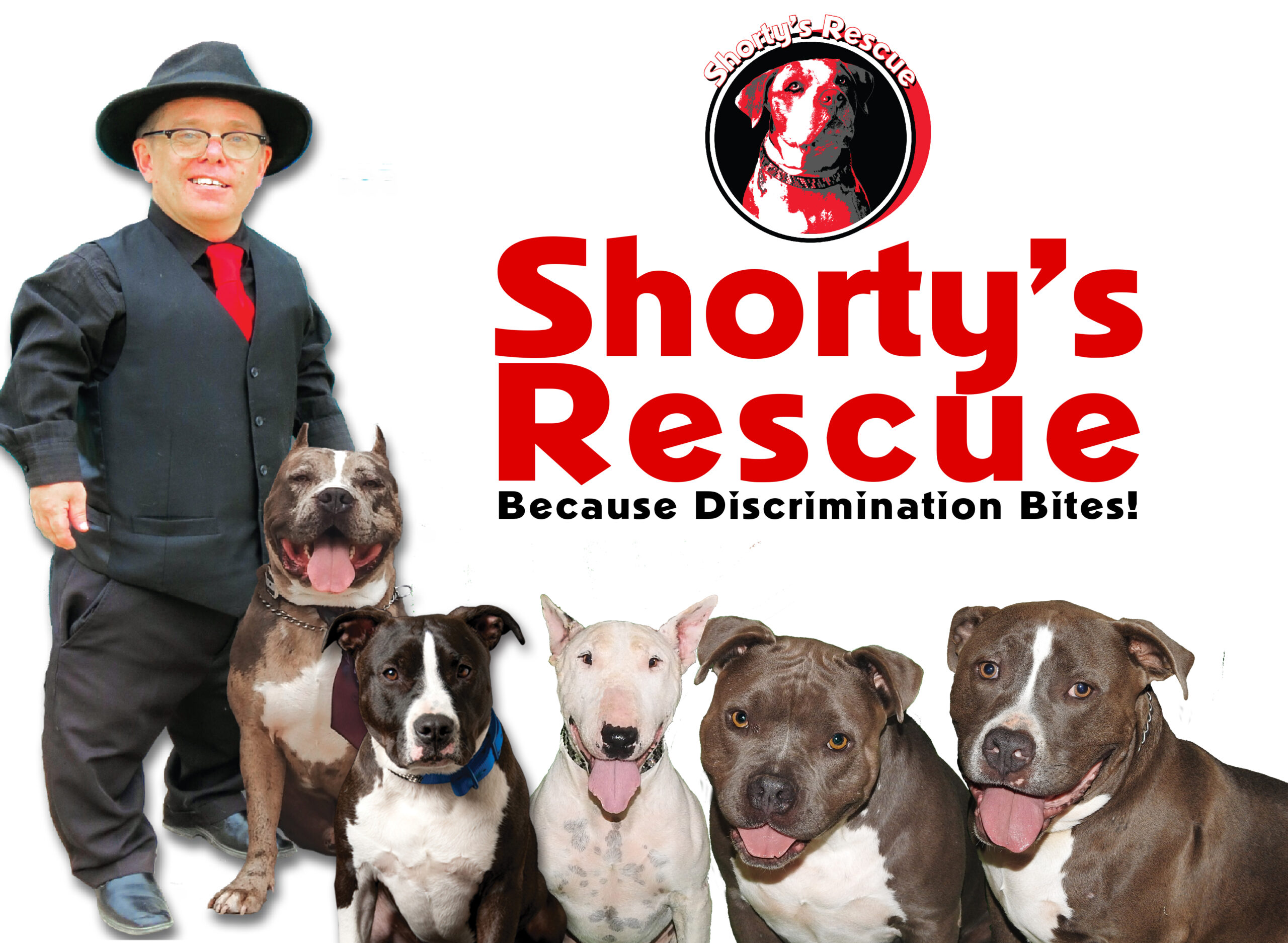 OUR STORY – OUR MISSION
Shorty's Rescue started in Los Angeles in 2001 and our headquarters are in San Diego, California. Our goal is to bring awareness of our bully breeds and fight for their rights, fight against dog fighting and fight against breed specific laws (BSL) throughout the United States and Mexico. Shorty's Rescue has several other programs including Geisha's House and Hercules Mobile Clinic.
We offer monthly free veterinary care to low-income individuals and families.

We provide free monthly dog obedience training classes to low-income individuals and families.

Rescue, rehabilitate, train, and re-home bully breeds through our Geisha's House Foster Program.

We offer free spay and neuter clinics to low-income individuals and families.

Participate in Keynote Speaking Engagements.

Enlighten Bully Breed Breeders regarding their contribution to the homeless Bully Breed Population.

Pet Owner Support Program to keep our Bully Breeds where they belong by providing food, veterinary care, and training to qualifying individuals.

Education Resource for responsible Breed Guardianship, Breed Awareness, Animal Rights, and fighting against BSL (Breed Specific Legislation) laws.
Creating a strong voice against stereotyping and stigma—we do not seek your pity and don't appreciate your prejudice. We are here to help one discrimination case at a time through education, enlightenment and to fight, if necessary, for the underdogs of the world.
Shorty's Rescue
www.shortysrescue.org
GET THE FACTS:
Download our pdf fact sheet: Debunking DogsBite!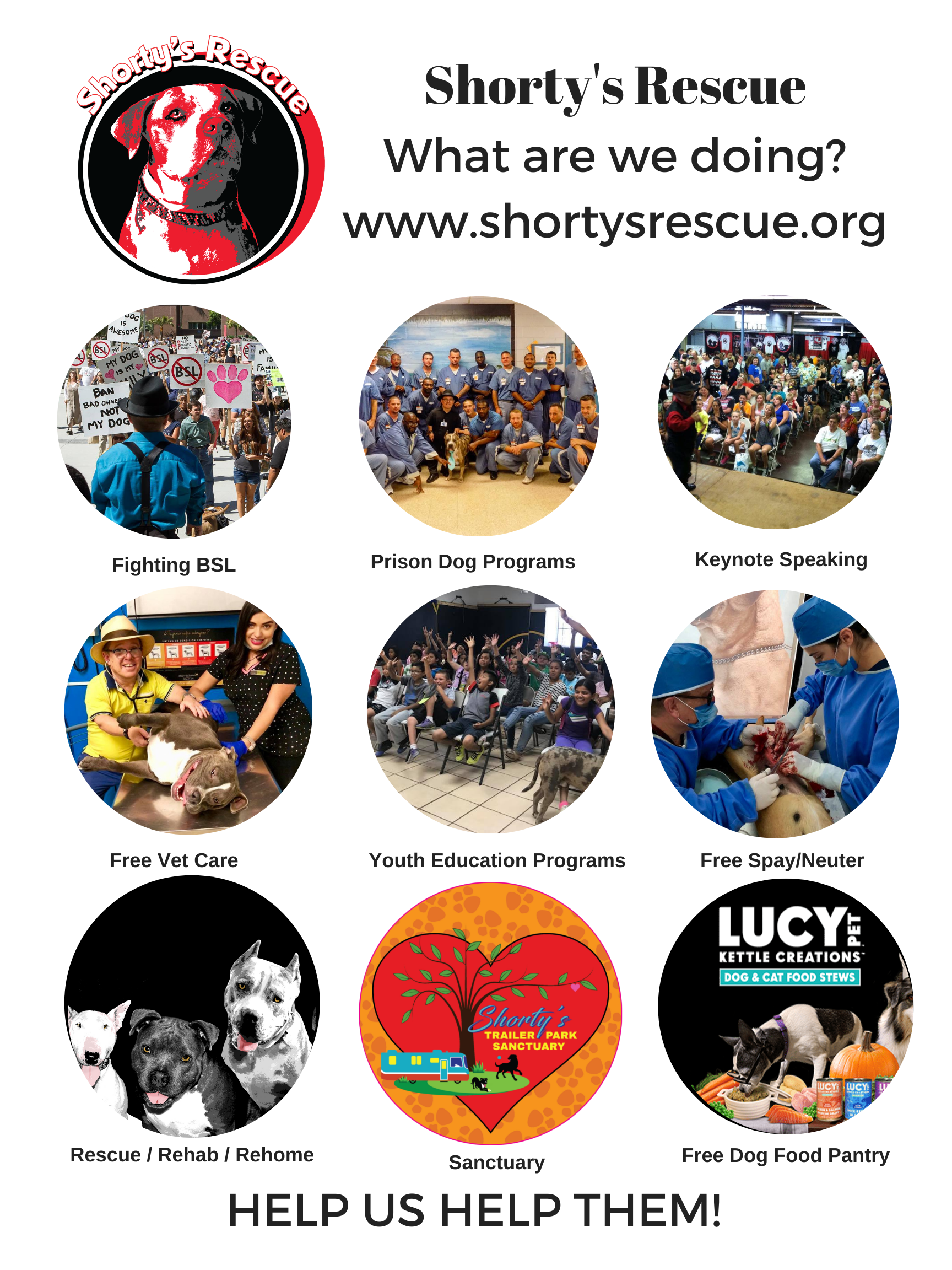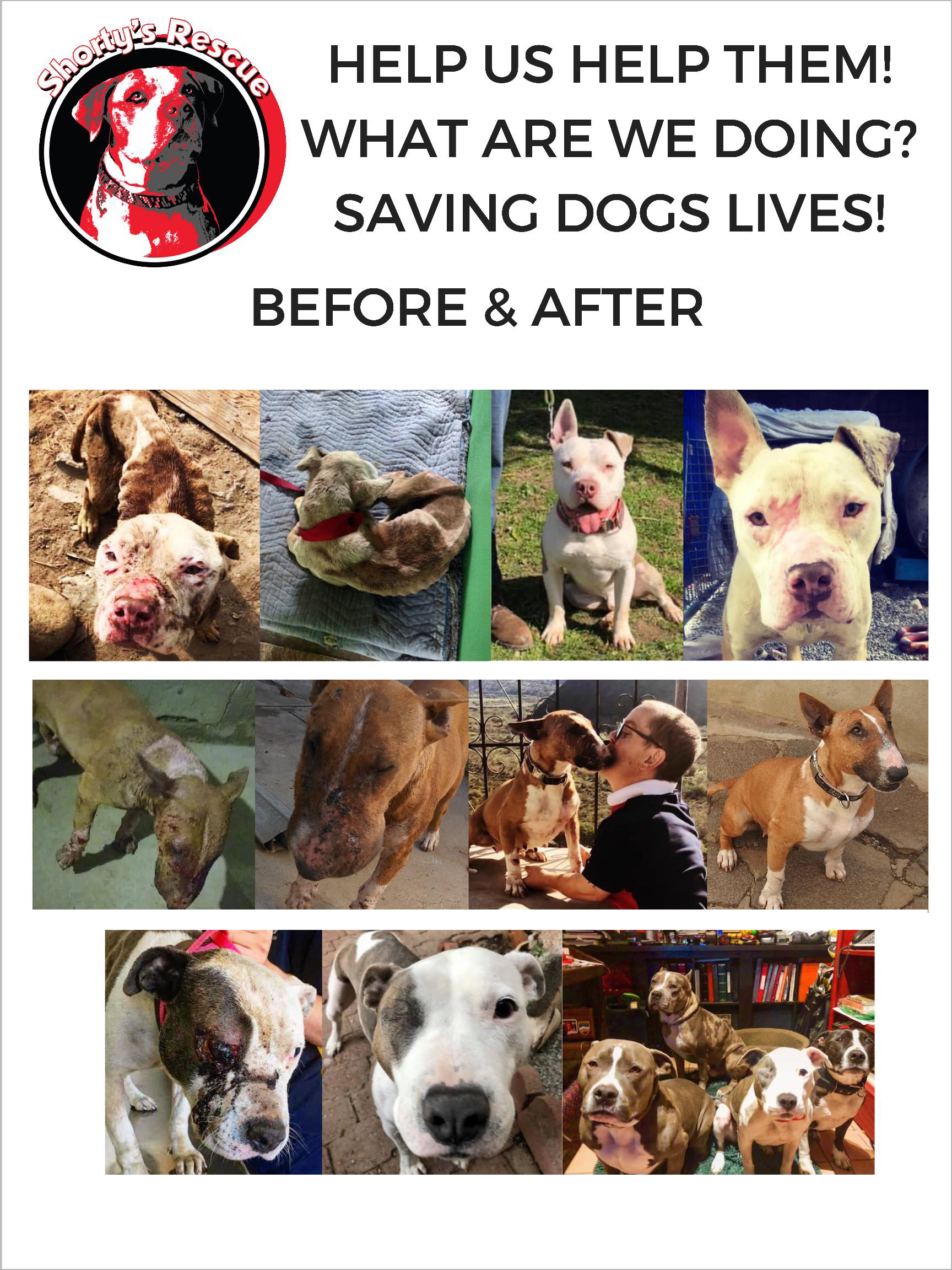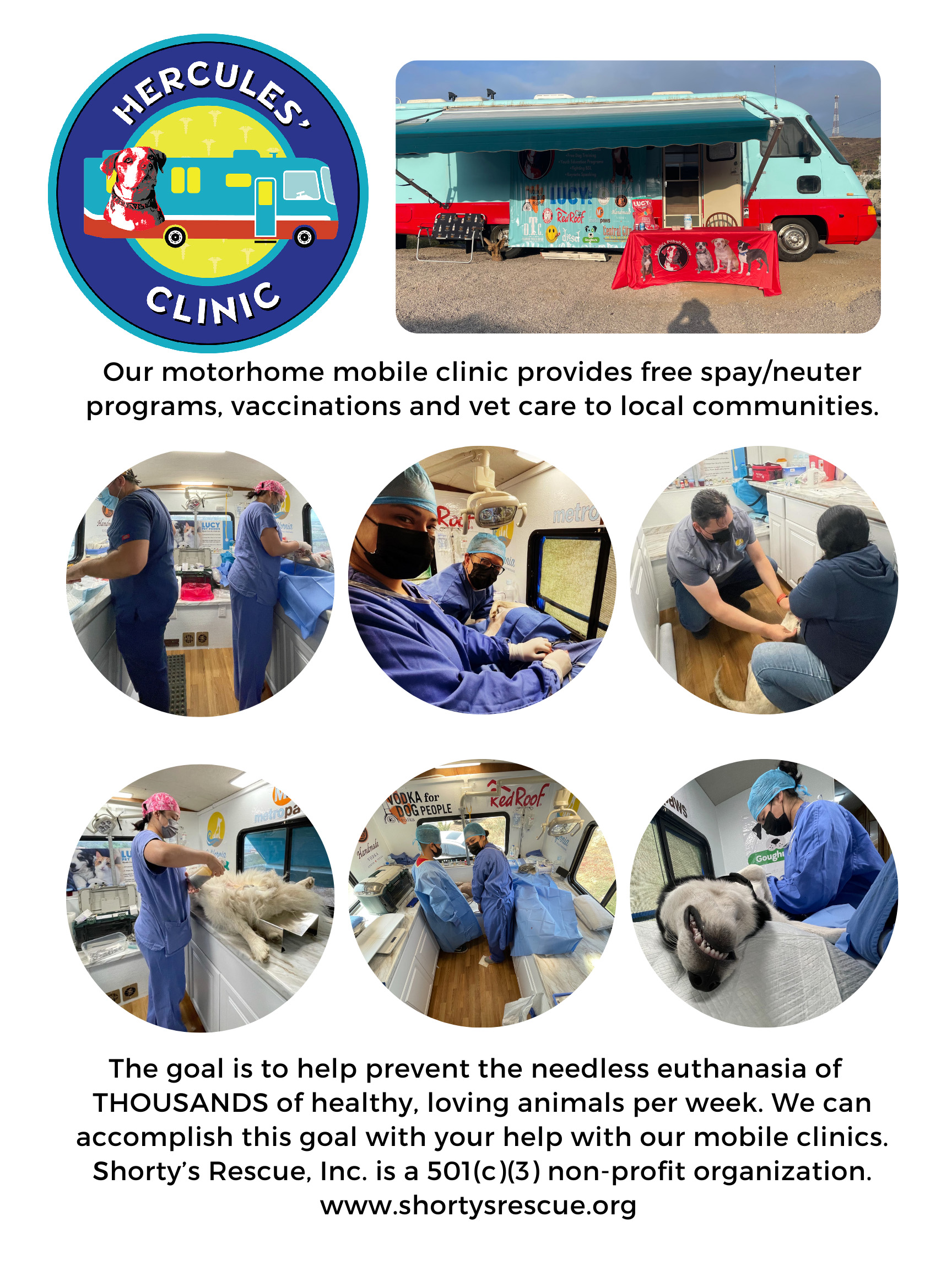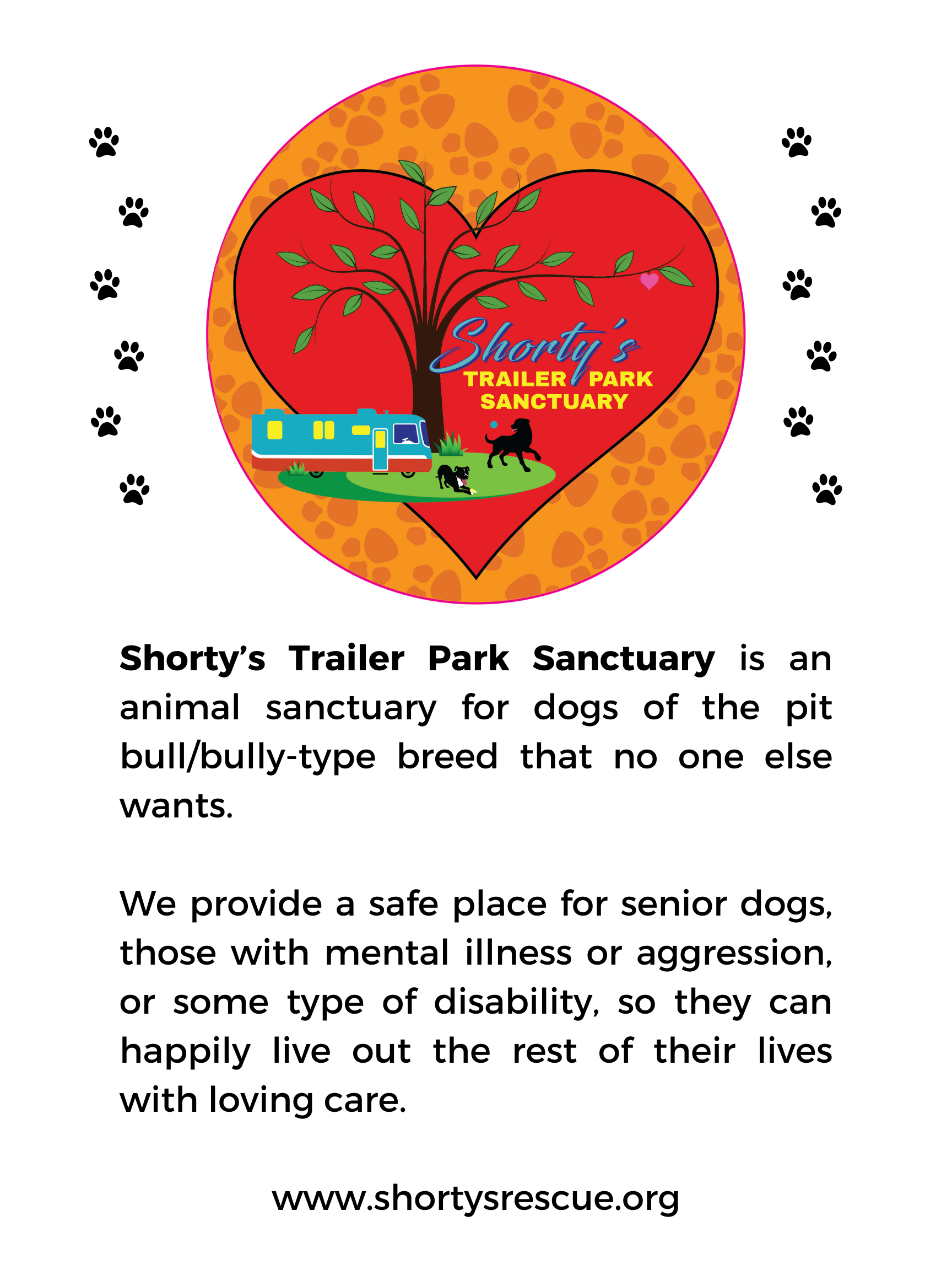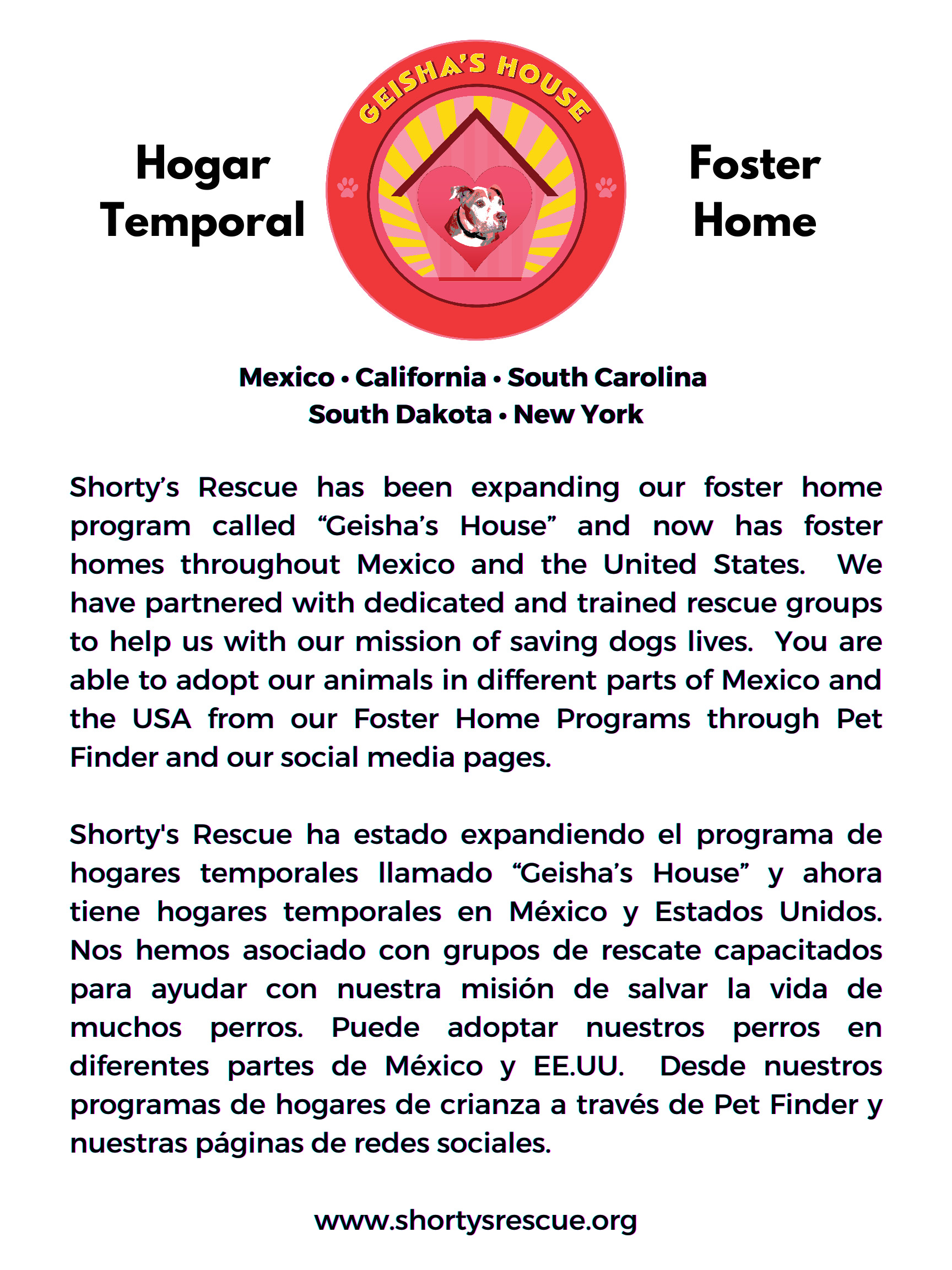 Shorty's Rescue comenzó en Los Ángeles en 2001 y nuestra sede se encuentra en San Diego, California. Nuestro objetivo es crear conciencia sobre nuestras razas acosadoras y luchar por sus derechos, luchar contra las peleas de perros y luchar contra las leyes específicas de raza (BSL) en los Estados Unidos y México. Shorty's Rescue tiene varios otros programas, incluidos Geisha's House y Hercules Mobile Clinic.
Ofrecemos atención veterinaria gratuita mensual a personas y familias de bajos ingresos.

Ofrecemos clases gratuitas mensuales de entrenamiento de obediencia para perros a personas y familias de bajos ingresos.

Rescatar, rehabilitar, entrenar y reubicar razas de matones a través de nuestro Geisha's House Foster Program.

Ofrecemos clínicas gratuitas de esterilización y castración a personas y familias de bajos ingresos.

Participamos en los compromisos de conferencias magistrales.

Damos a conocer a los criadores de razas peligrosas sobre su contribución a la población de razas peligrosas sin hogar.

Contamos con programa de apoyo para dueños de mascotas para mantener a nuestras razas bully donde pertenecen al proporcionar alimentos, atención veterinaria y capacitación a las personas que califiquen.

Recurso educativo para la tutela responsable de la raza, el conocimiento de la raza, los derechos de los animales y la lucha contra las leyes BSL (legislación específica de la raza).
Crear una voz fuerte contra los estereotipos y el estigma. No buscamos su compasión y no apreciamos su prejuicio. Estamos aquí para ayudar en un caso de discriminación a la vez a través de la educación, la ilustración y para luchar, si es necesario, por los desamparados del mundo.
Shorty's Rescue
www.shortysrescue.org/[email protected]
SHORTY'S RESCUE SPONSORS
CONTACT SHORTY'S RESCUE:
We enjoy hearing from you, so please feel free to email us your comments or send us a note.
EMAIL
[email protected]
DEADWOOD, SOUTH DAKOTA
Shorty's Rescue
P.O. Box 674
Deadwood, SD 57732
NON-PROFIT TAX DEDUCTIONS:
All rescue operations and rehabilitation are supported by donations.  Please donate if you can.
Shorty's Rescue, Inc. is a 501(c)(3) non-profit organization with a public charity 170 (b) (1) (A) (vi) classification and you are entitled to a tax deduction for your contribution.  If you require tax information or proof of IRS charity classification you can email us at [email protected] to request that information.

ANIMAL TRAINING:
Tim Williams of Acting K9 Services works with domestic and exotic animals for film, TV, Commericals, Print, & Private Events